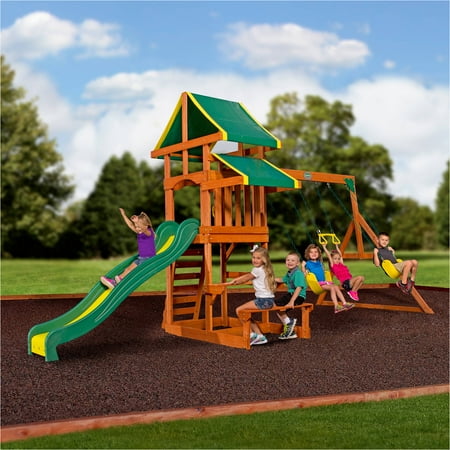 $399.0
$11.97 GIFT CARD DOLLARS
BUY NOW
Backyard Discovery Tucson Cedar Wooden Swing Set
You also know kids are secure in your backyard. It offers wonderful value in outdoor play for the whole summer. Give your kids an option to play close by when you install the Backyard Discovery Tucson Cedar Swing Set. Backyard Discovery Tucson Cedar Wooden Swing Set: Key Benefits: Kids benefit from frequent physical activity and exerciseYou benefit from knowing the kids are secure in your own backyardBackyard Discovery Tucson Cedar wooden swing set features 4 activities that will keep 7 kids busy at the same timeWooden swing set offers terrific value in outdoor play for the whole summerIdeal for smaller backyardsFeatures & Specifications: Cedar, factory-stained wood from sustainable forestsAll wood included with this wooden swing setCovered play deckDimensions: 18' 1"L x 7' 4"W x 9' 5"HAssembled weight: 204lbsWhat's Included: Covered play deck8' Super Safe Speedy Slide2 belt swings with kid-friendly chainsTrapeze barPicnic/activity tableRock wallSafe-T-Fuse Fastener SystemBackyard Discovery Wooden Swing Set Assembly: Includes detailed assembly manualSome pilot holes may need to be drilled on siteLumber is pre-drilled, pre-cut and pre-stainedLumber is stamped for ease of assemblyAll structural components and necessary hardware and fasteners are included2 adults required for wood play set assemblyAssembly takes approximately 6-8 hours with 2 adultsSafety Information: Recommended Safety Zone: 24' 1"L x 19' 4"W x 15' 5"HPlace in a flat area of your yard to minimize ground preparationProvide enough room so that children can use the Backyard Discovery wood play set safelyDo not build your wooden swing set on top of surfacing materialLocate bare metal platforms and slides out of direct sunlight to reduce the likelihood of serious burnsMaximum Weight Capacity: 960 lbsTools Needed (Not Included):3/8" cordless or electric drill3/16", 5/16" and 3/8" drill bitsDrill Attachments: Phillips head screw, 3/8" socket driver and torque head screw1/2" and 7/16" open end wrenchesTape measure1/
Store: Wal-Mart.com USA, LLC | Show deals for Wal-Mart.com USA, LLC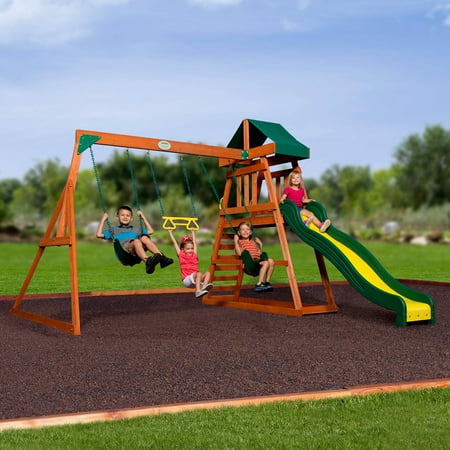 $329.99
$9.87 GIFT CARD DOLLARS
BUY NOW
Backyard Discovery Prescott Cedar Wooden Swing Set
Backyard Discovery Prescott Cedar Wooden Swing Set: Key Benefits: Kids benefit from frequent physical activity and exerciseYou benefit from knowing the kids are secure in your own backyardWooden outdoor play set features 6 activities to keep kids busyBackyard Discovery Prescott cedar wooden swing set offers terrific value in outdoor play for the whole summerFeatures & Specifications:100-percent factory-stained cedar lumberWood is from sustainable forestsAll wood is included with this wooden swing setIdeal for small and large backyardsDimensions: 11' 8.5" x 11' 2" x 8' 2"What's Included with the Backyard Discovery Prescott Cedar Wooden Swing Set: Covered play deck2 belt swings1 trapeze bar8' Super Safe Speedy SlideRock wall entryAssembly: Backyard Discovery Prescott cedar wooden swing set includes a detailed assembly manualBackyard Discovery wooden swing set is designed to be installed on a level surface by an adult with an adult helperPrescott swing set setup requires 6-8 hours with 2 adults workingDo not build the wooden swing set on top of surfacing materialSafety Information: Recommended safety zone: 23'8-1/2" x 23'2" x 14'2"Assemble no less than 6' from any structure or obstruction such as a fence, garage or electrical wireMaximum Weight Capacity: 960 lbsTools Needed (Not Included):3/8" cordless or electric drill3/16", 5/16" and 3/8" drill bitsDrill Attachments: Phillips head screw, 3/8" socket driver, torque head screw, 1/2" and 7/16" open end wrenchesTape measure1/2" and 9/16" nut drivers3/8" drive ratchet, 1/2" and 9/16" std sockets, 1/2" and 9/16" deep socketsClaw hammerPhillips and straight blade screw drivers24" levelRubber mallet (optional)Step ladderMaterials, Care and Warranty: Perform maintenance check-ups on bolts, plastic and wood parts on a regular basisDetailed maintenance instructions included with this Backyard Discovery cedar outdoor play set1-year limited warranty1-year warranty covers all parts including wood and hardwareAll wood carries a 5-year pr
Store: Wal-Mart.com USA, LLC | Show deals for Wal-Mart.com USA, LLC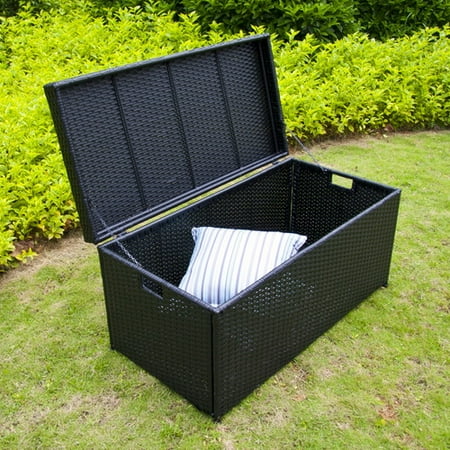 $164.25
$4.92 GIFT CARD DOLLARS
BUY NOW
Jeco Inc. Outdoor 70 Gallon Wicker Deck Storage Box
WBP1005FeaturesMetal frame for extra durabilityHinged top lid allows for easy opening convenienceTop also features chain stopper to prevent top from flipping backwardsHandles on both sides of trunk make portability easyAll weather synthetic resin wickerProduct Care: Hose off and wipe cleanMaterial: Metal/ResinHandles: Yes DimensionsOverall Product Weight: 30 lbsOverall Height - Top to Bottom: 20"Overall Width - Side to Side: 40"Overall Depth - Front to Back: 20
Store: Wal-Mart.com USA, LLC | Show deals for Wal-Mart.com USA, LLC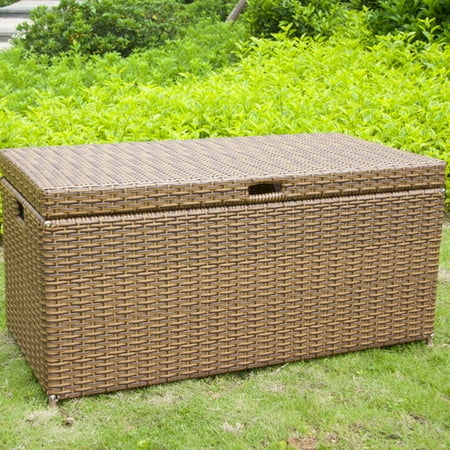 $114.57
$3.42 GIFT CARD DOLLARS
BUY NOW
Jeco Inc. Outdoor 70 Gallon Wicker Deck Storage Box
WBP1005FeaturesMetal frame for extra durabilityHinged top lid allows for easy opening convenienceTop also features chain stopper to prevent top from flipping backwardsHandles on both sides of trunk make portability easyAll weather synthetic resin wickerProduct Care: Hose off and wipe cleanMaterial: Metal/ResinHandles: Yes DimensionsOverall Product Weight: 30 lbsOverall Height - Top to Bottom: 20"Overall Width - Side to Side: 40"Overall Depth - Front to Back: 20"
Store: Wal-Mart.com USA, LLC | Show deals for Wal-Mart.com USA, LLC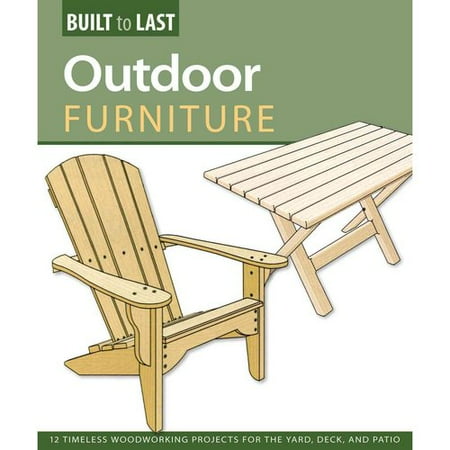 $15.87
$0.45 GIFT CARD DOLLARS
BUY NOW
Outdoor Furniture: 14 Timeless Woodworking Projects for the Yard, Deck, and Patio
Design and build beautiful wooden outdoor furniture sturdy enough to withstand Mother Nature with the detailed techniques and step by step instructions in this handy guide.
Store: Wal-Mart.com USA, LLC | Show deals for Wal-Mart.com USA, LLC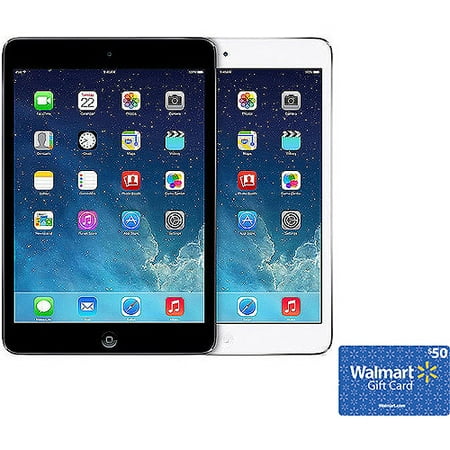 $239.0
$7.17 GIFT CARD DOLLARS
BUY NOW
Apple iPad mini 16GB Wi-Fi with Bonus $50 Walmart Gift Card
Apple iPad mini 16GB with Wi-Fi (Space Grey or White):The Apple iPad mini with WiFi has a 7.9-inch LED-backlit displayA5 chip5MP iSight camera with 1080p HD video recordingFaceTime cameraThe Apple iPad mini with WiFi features up to 10 hours of battery life *Built-in Wi-Fi (802.11a/b/g/n)Over 275,000 apps on the App Store *The Apple iPad 16GB (Space Gray or White) runs on iOS 6 and iCloudCellular data service on Wi-Fi + Cellular models (sold separately)Available in black & slate or white & silver* Battery life varies by use and configuration. See www. apple.com/batteries for more information* App count refers to the total number of apps worldwide.
Store: Wal-Mart.com USA, LLC | Show deals for Wal-Mart.com USA, LLC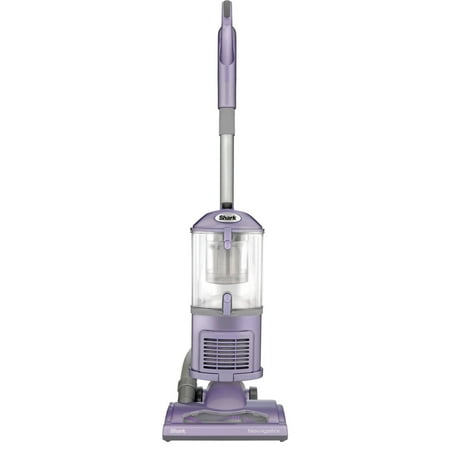 $134.0
$4.02 GIFT CARD DOLLARS
BUY NOW
Shark Navigator Lift-Away Bagless Upright Vacuum Cleaner - NV351
Shark Navigator Lift-Away Bagless Upright Vacuum: Lift-Away ®. Press a button to lift the canister away and easily clean hard-to-reach areas. Anti-Allergen Complete Seal Technology ® + a HEPA filter. Traps 99.9% of dust and allergens inside the vacuum. Powerful and lightweight. Portable and versatile at only 12.5 lbs. Swivel Steering. Excellent control for maneuvering around furniture. Brushroll Shutoff. Deep carpet and gentle bare-floor cleaning. Wide Pet Upholstery ToolDusting Brush5" Crevice ToolModel# NV351
Store: Wal-Mart.com USA, LLC | Show deals for Wal-Mart.com USA, LLC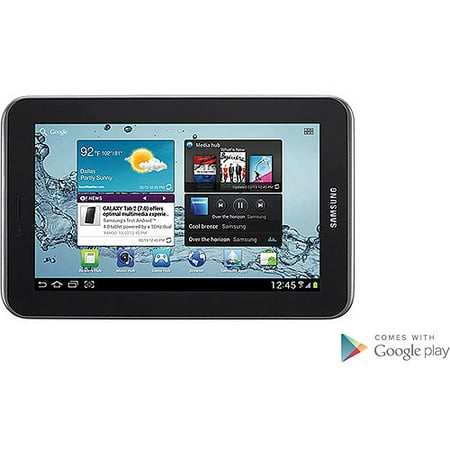 $148.0
$4.44 GIFT CARD DOLLARS
BUY NOW
Samsung Galaxy Tab 2 7" Tablet with 8GB Memory - Titanium Silver
Samsung Galaxy Tab 2 with WiFi 7" Touchscreen Tablet PC Featuring Android 4.0 (Ice Cream Sandwich) Operating System, Silver: Technical Specifications:1GB LPDDR2 of system memory and 8GB on-board storage memory7" touchscreen, 1024 x 600 resolutionBuilt-in 802.11b/g/n Wi-Fi and Bluetooth v3.0Additional Features:3MP webcamUSB 2.0 port, 30-pin IF connector8GB on-board storage memory, up to 32GB additional memory via microSD card slot1080p Full HD video playbackGPSWeighs 0.76 lbs; 0.41" x 4.8" x 7.6" dimensionsSoftware and Applications: Android 4.0 OS (Ice Cream Sandwich)Contacts, Alarm, Clock, Planner, Camera, Gallery, Google Talk, Dropbox, Netflix, Gmail, YouTube, Web Browser, My Files, Email, AllShare, Google Search, Memo, Latitude, Task Manager, Video Player, Media Hub, Game Hub, Amazon Kindle, Calculator, Music Player, Photo Editor, Smart Remote, Settings, Chat On, Readers Hub, Samsung Apps, Polaris, Google Maps, Play StoreAndroid Music PlayerMedia Formats: MP3, AAC/AAC+/EAAC+/WMA/OGG/FLAC/AC-3/MPEG4/H.264/H.2 63/VC-1/DivX/VPB/WM7/WM8/GIF/AGIF/JPEG/PNG/BMP/W BMP/WEBP/DOC/DOCX/TXT/HWP/RTF/XLS/XLSX/CSV/PPT/P PTX/PPS/PDFWhat's in the Box: Samsung Galaxy Tab 2 with WiFi (Silver) and AC adapterWhat's a Tablet PC?Tablet PCs, like this Samsung Galaxy Tab 2 Tablet PC (7" Touchscreen), are compact, ultra-portable entertainment devices that let you read email, surf the internet, read eBooks, view photos, play games, listen to music and watch video files. Most tablets are based on a smaller operating system, which allows you to purchase and download additional applications from supported stores. Tablet PCs do not have a CD/DVD drive and will not run Microsoft Windows or its applications. Tablet PCs function as a secondary device for casual entertainment purposes, and are not meant to replace a computer. They are ideal for use around the home and on the go with Wi-Fi or 3-4g mobile broadband connections (pay as you go, contract may be required for service).
Store: Wal-Mart.com USA, LLC | Show deals for Wal-Mart.com USA, LLC